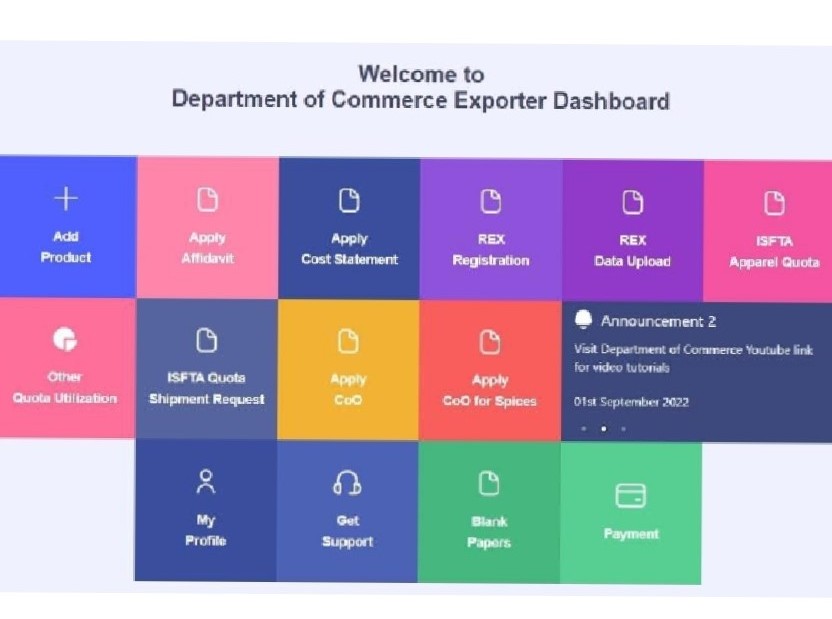 ISFTA Certificates of Origin (ISFTA CoOs) and TRQC are issued with digital signatures from 27th March 2023.

You can watch the video on "Digital Signature: Tutorial for Electronic Certificate of Origin" by clicking the

link below,
https://www.youtube.com/watch?v=dCHKtaF-IKI
Department of Commerce

26th March 2023
| | | |
| --- | --- | --- |
| | | |
Department of Commerce organised a meeting with the Japan External Trade Organization( JETRO) and SLASSCOM to discuss the future cooperation in the Information and communication technology industry. Mr. Hiroki Oi, Resident Representative of JETRO, Ms. Lakna Wasalage, Senior Research & Administrative Assistant represented the JETRO. Ministry of Trade, Commerce and Food Security Secretary A.M.P.M.B. Atapattu, Acting Director General of Commerce, Ms. Gilma Dahanayake, Trade promotion Head Mr. Alexi Gunasekara, Mr. Dinesh Saparamadu, Past Chairman SLASSCOM, Mr. Ashique Ali, Current Chairman of SLASSCOM, representatives of SLASSCOM and other senior officials of the department joined the discussion with JETRO team.

Discussions were held on developing a multi-year program to promote Sri Lanka ICT Industry and other potential sectors in the Japanese market and to develop partnership with the Japanese companies. Japanese delegates and SLASSCOM representatives met with Hon Minister of Trade, Commerce and Food Security and had a detailed discussions on the areas that can benefit both Japan and Sri Lanka in a long term ICT Industry.