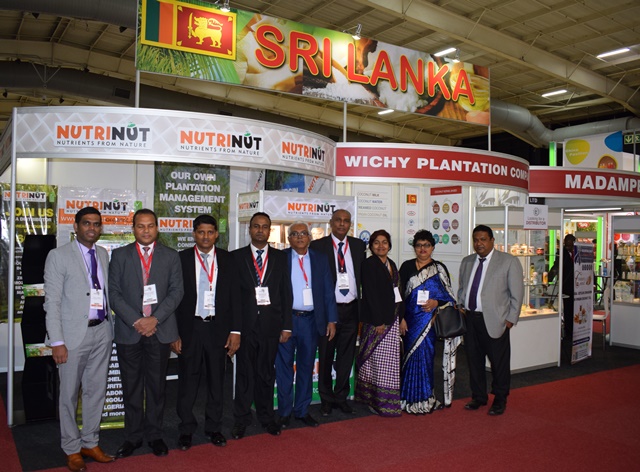 Sri Lanka Tea Board and Coconut Development Authority (CDA) in coordination with Sri Lanka High Commission in Pretoria successfully participated at the Southern African International Trade Exhibition (SAITEX 2018) held in Gallagher Convention Centre in Midrand, Johannesburg from 24th to 26th June 2018. SAITEX is Africa's largest product sourcing and trade event which provides an opportunity for exhibitors to network with buyers, distributors and other interested businesses in South Africa and in the region. A large number of exhibitors both from Southern African Region and other countries were present in this year's event
Imperial Tea Exports Pvt Ltd, exhibited its products under the Tea Board pavilion while five companies namely Wichy Plantations Company Pvt Ltd, CBL Natural Food Pvt Ltd, Ceylon Nutrinuts holding Pvt Ltd, Madampe Mills Pvt Ltd and A S Agri Exports Pvt Ltd showcased an assortment of coconut products under the CDA Pavilion at Africa's Big Seven, the Continent's largest annual food & beverage industry trade event co-located with SAITEX. Samson International Plc also exhibited its high-quality rubber products as an individual exhibitor. The Sri Lanka Pavilion was declared open by Mr. Matt Denton, President of DMG events- Middle East, Asia and Africa and Ms. Devi Paulsen -President of SAITEX, by lighting traditional oil lamp on 24th June 2018. Ms. Thiloma Abayajeewa, Acting High Commissioner, Mr. Brad Hook, Commercial Director of SAITEX and Mr. Kirtan Bana, Editor of the Diplomatic Society, were also among other dignitaries participated at the opening ceremony.
The Ceylon tea serving and promotional campaign were carried out at the pavilion by highlighting and showcasing the geographical branding, "Ceylon tea grades and its unique identity. The Sri Lankan exhibitors were highly satisfied with the firm inquiries received for its products from South African importers and distributors who visited SAITEX 2018. At the request by the High Commission, a delegate from international food buying department of Shoprite Checkers group, Africa's Largest retail chain had successful B2B meetings with all coconut exporters at the Sri Lanka Pavilion.
Mr.Kapila J. Kumara , First Secretary- Commercial of the Sri Lanka High Commission in Pretoria coordinated the Sri Lanka participation while Mr. Nalaka Sanjeewa , Market Analyst of Sri Lanka Tea Board and Mr. M. Puspakantha, Assistant Director of the Sri Lanka Coconut Development Authority assisted Sri Lankan participants throughout the event. The three-day event was successfully concluded on 26th June 2018.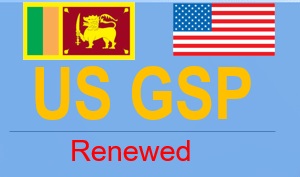 The United States Generalized System of Preferences (GSP) scheme, which lapsed on December 31, 2017, was renewed by the U.S. Congress on March 23, 2018. The U.S. President signed the legislation authorizing the renewal through December 31, 2020.
At present, nearly 3,500 different products from Sri Lanka are eligible to access the US market on a duty free basis under the GSP scheme. These include selected manufactured items, inputs used in manufacturing jewellery, carpets, selected agricultural and fishery products, and selected types of chemicals, minerals and marble.
The GSP expires periodically, and must be renewed by the U.S. Congress to remain in effect. The 2015 GSP reauthorization expired on December 31, 2017 as the U.S. Congress did not reauthorize its renewal before adjourning for the year in 2017. Therefore all GSP eligible exports to the United States, from all beneficiary countries and territories were subject to non-preferential duties from January 1, 2018.
While legislation to renew GSP was enacted on March 23, the effective date of renewal is April 22, 2018. Therefore, exports to the United States from GSP beneficiary countries under the tariff concessions will be effective April 22, 2018 onwards. However, as the GSP program's renewal is retroactive, importers may seek refunds of duties paid during the lapse of GSP authorization. To receive a GSP duty refund, an importer has to file a request by October 19, 2018.
The US economy is the largest single export destination for Sri Lanka, accounting for more than 27.5% of Sri Lankan exports. In 2017, Sri Lankan exports to the United States totalled US$ 2.8 billion, of which US$ 193,403,609 accounted for exports under the GSP scheme. This is an 11.5% increase from 2016.
Embassy of Sri Lanka
Washington DC
March 28, 2018